Latest Jobs
22/11/16    Front of House Manager/Receptionist required 
Call Sandy or Jacqui for an informal chat on 02089160773 or send your cv and cover letter to jamhair@outlook.com
Full-time position running reception and keeping the salon running smoothly
Main job includes dealing with clients and booking appointments and giving 100% customer service.
Stock ordering, dealing with staff issues and making sure the salon runs smoothly and efficiently on a day to day basis.
Ideally suited to someone who has some managerial experience and applicant must have knowledge of how a salon runs on a day to day basis.
Call Sandy or Jacqui for an informal chat on 02089160773 or send your cv and cover letter to jamhair@outlook.com
1/08/16     JAM HAIR is looking for an apprentice to join the team in Sanderstead,Croydon
No experience needed 
We are also happy to take on a level 2 apprentice if you need another year in a salon to gain more experience and we will put you on a level 3 apprenticeship.
If you are a person who is passionate about hair and making people feel great when they leave the salon and if you are looking for a salon with a great team ethos then JAM could be the salon for you, we go that extra mile to look after our team with lunch breaks, no Sundays, and training, you become an important part of the the smooth running of the salon, your views will be important to us and you will be treated with respect.
Please email us your CV and photo to jamhair@outlook.com with a covering letter on why you would be a great asset to Jam Hair?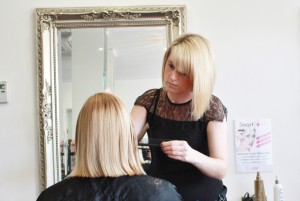 Stylist required
1/Are you an experienced hair stylist that feel your talents are wasted?
2/ Are you underpaid, overworked and you need a better boss?
3/ Does your current salon have an uncomfortable atmosphere that is getting you down?
Then give us a call as we go that extra mile to look after our team with 8 hour days, lunch breaks, no sundays, good salary and a very important team ethos so we all get on and work well together at all times
What Louise G who is our senior stylist has to say about working at JAM
"I have worked for Jacqui for 4 years now and it was best career move I could make with ongoing training and a great team spirit in the salon. I am hitting my targets as its a busy salon and being rewarded with great wages. I really love coming to work"
We are looking for someone with 3 years salon experience who is positive, enthusiastic and keen to always be learning new skills. Must be competent in all aspects of hairdressing, we need versatility and flexibility from our new team member.
We're looking for a well-presented, friendly person, who has a passion & good understanding for the hair industry, and knows what makes great, warm, friendly customer service.
The ability to take a client through the complete customer journey, from initial consultation to long term relationship building is very important to us. We are committed to delivering standards of excellence and seek like minded people to further strengthen our team.
If this sounds like you, here's how to apply…
Please email us your CV to jamhair@onebillnet.co.uk, or give us a call on 02089160773 and tell us why you would be a great asset to Jam Hair!