Babyliss Pro Perfect Curl Treatment available at Jam Hair Salon, Sanderstead
If you long for glossy, beautiful tumbling curls, no matter what your hair type, the Babyliss Pro Perfect Curl Styling is available at our Hairdressing Salon in Croydon to create sexy waves or gorgeous curls every time!
If you have straight hair or flat hair or whether your hair is longer or short, the Babyliss Pro Perfect Curl treatment gives amazing results leaving your hair looking gorgeous!
The Babyliss Pro Perfect Curler is the hottest new styling tool creating a variety of styles from softer loose waves to tighter more defined curls, creating beautiful long lasting curls.
The innovative new styler effortlessly creates gorgeous curls in no time, closing the hair cuticle resulting in smooth glossy hair.
The Babyliss Pro Perfect Curler is the most cutting edge curling treatment when it comes to hair styling giving you curls that won't drop and will hold from dusk until dawn! With its ceramic curl chamber for smooth shiny curl creation it is kind to the hair, with different heat settings for soft curls, defined curls or looser waves for different hair types, resulting in long lasting fabulous curls.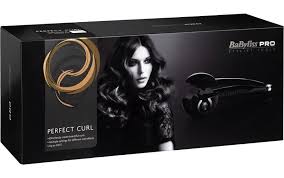 BABYLISS PRO PERFECT CURL AT JAM HAIR SALON
At Jam Hair Salon our expert stylists can create fabulous curls for every day or for that special occasion, so book today for your Babyliss Pro Perfect Curl Treatment.
To book an appointment for beautiful long lasting curls at Jam Hair Salon in Croydon call us on 020 8916 0773.
httpv://youtu.be/2lxVbuyiW6A