JAM Hair Salon, Sanderstead take a look at the hottest hair trends this Autumn/Winter 2014…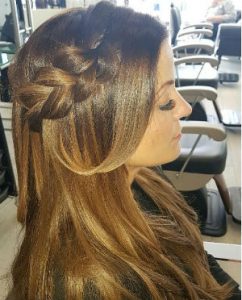 As Summer slips away and nature changes colours from greens, yellows and blues to burnt oranges, rusts and the rich red hues of Autumn, it's no wonder we are inspired to change our hair colour accordingly!
Autumn has always been a great time to rethink your hair colour, and this year is no exception. Why not revamp your style with some gorgeous shades of plum browns, copper reds, and rich dark chocolate browns to take you into the party season?!
Add richness to blonde hair for an Autumnal look with some deeper golden highlights – creating a beautiful, buttery blonde colour.
Consult with your expert hair colourist at our hair salon in Croydon to see what suits your skin tone for a gorgeous hair colour this Autumn.
For more on haircuts and hairstyle services in Croydon click here.
Dishevelled Ballerina Buns
This season it's all about top knots left effortlessly undone – a look that can be worn in the day or night, whatever the occasion! For a hint of extra glamour, simply opt for a slicker bun, taking care to tie up any loose ends – and go from casual to chic in seconds.
[nggtags gallery=balbun]
Beautiful Braids
It's official, ladies…Braids are back with a bang! showcased a variety of different styles of braid – including everything from fishtails and tight braids to loose plaits tucked into updo's.
[nggtags gallery=braidbeaut]
Centre Parts & Long, Low Ponytails
The ponytail is back, ladies! Long, slick, low ponytails could be seen on many an AW/14 runway. A quick and simple way to add instant class and glamour. Both Balmain and Chanel chose to rock severe centre parts, pulled back into tight, low ponytails. This look has real staying power – after being a real fashion favourite during AW/13. Adds a touch of class to any look.
[nggtags gallery=longlow]
What Autum/Winter Hair Colour Suits Me?
The Autumn and Winter months offer the perfect opportunity to rejuvenate and refresh your hair, keeping up with the season's hair colour trends for a great new look. Create subtle dimension by adding a few highlight accents around the face to brighten and lift this season.
Spice up your brunette hair colour this Autumn with a rich cinnamon shade flattering your skin tone creating a more youthful look. A great way to enrich over-highlighted hair is to darken the base as close to your natural hair colour as possible, speak to one of our creative colourists at JAM Hair Salon who will advise you on Autumn hair colour.
Whether you're blonde, brunette or even red haired, a softened version of the balayage trend is hot for Autumn 2014, some of the celebrities that are wearing this look now include Jessica Alba and Drew Barrymore. For more on hair colour services in Croydon, take a look at our hair colour at JAM Hair here.
[nggtags gallery=wintcol]
Book an appointment at JAM Hair Salon, Croydon
Get yourself looking and feeling gorgeous with an on trend hair colour this Autumn at our hairdressing salon in Croydon, our expert colourist will help you find the shade perfectly tailored to your personality and skin tone.